Kinetic K3000XMC Machine – Combination Drilling and Cutting Machine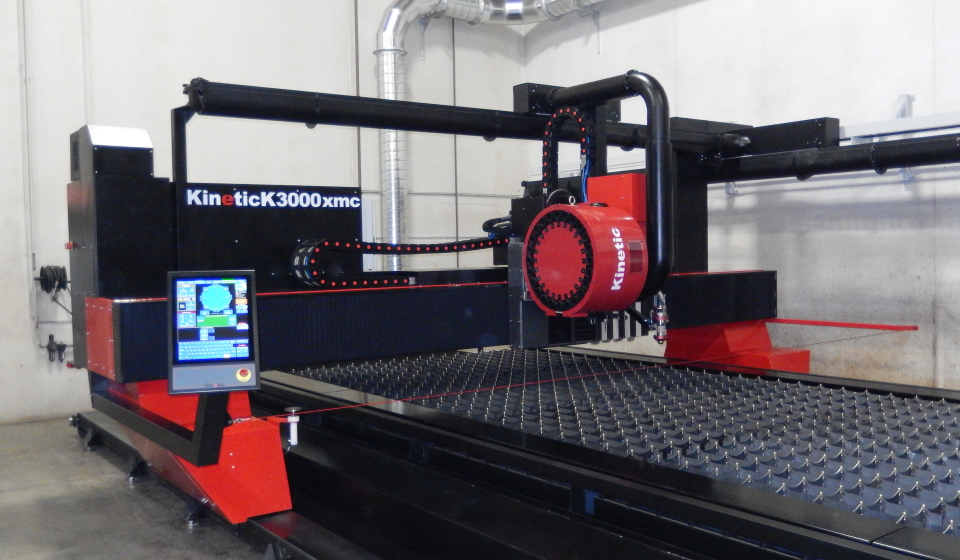 KINETIC K3000XMC MACHINE – COMBINATION DRILLING AND CUTTING MACHINE
Heavy duty combination machine for doing machining operations and precision plasma or flame cutting. This enables parts to be finished in one set-up with no jigging or work holding devices necessary.
Available widths from 2.6m to 9.2m (8'8" to 30')
Available lengths from 6.3m and longer (20'8" and longer)
Options include: Multiple torch stations, Hydefinition Plasma Systems, 7 HP Six Station Turret, Combination Plasma / Flame Bevel, Marking Systems, Flame Cutting.
MACHINE CAPABILITIES
DRILLING
MILLING
TAPPING
COUNTERBORING
MARKING
PLASMA CUTTING
FLAME CUTTING
BEVEL CUTTING
AUTOMATIC TOOL CHANGING
OPTIONAL CUTTING HEADS
Precision Hypertherm plasma torches:
• HPR800XD
• HPR400XD
• HPR260XD
Plasma bevel cutting
Oxy fuel bevel cutting
Other tooling such as gas torches
Marking systems such as ink jet, plasma marking or powder marking
Pipe cutting systems for pipe cutting to 2′ or 3′ diameter
MACHINE FEATURES
Optional 17HP (13kW) High Speed Spindle with a 40 Taper
Through spindle coolant
Drilling to 1-1/2″
Boring to 3″
Tapping to 5/8″
Optional Automated tool changer with 24 tool holders mounted to the main carriage
Floor mounted rails for long axis with linear bearing guides and full protection
PC Controlled
19" LCD Glass Faced Touch Screen
Extra heavy duty machine design to accommodate machining forces generated by spindle
Four lifter stations in addition to the spindle fitted to the carriage to accommodate up to four independent tools
Machine manufactured from standard components
Dual Rack and pinion drives for long axis
Fiber optic link to office network
Guiding System Linear bearings on all axes
Drive AC Servo (dual X)
Drive System X & Y Rack and Pinion
Vertical Drives Programmable ball – screw
Traverse Speed 25 m/min (1000 ipm)
Machine accuracy +/- 0.15mm/m (0.006″/3′)