KINETIC K5600XMC -COMBINATION MACHINE WITH PASS THRU TABLE
Kinetic, the industry leader in combination machines has unveiled the new K5600xmc. This machine is based on the revolutionary K5000xmc, coupled with pass thru table technology. The system enables the plate to be cut and drilled and drops finished parts down a chute for removal via a motorized conveyor.
The K5600xmc features a 48hp spindle, an automatic tool changer with 24-tool magazine, automatic tool measurement and hardened and helical rack for the absolute best positioning. Capabilities include drilling to 4" diameter, thread milling, helical interpolation, plasma and oxy bevel cutting and pin and stamp marking.
The K5600xmc can process 10'x40' plates up to 6" thick with automated part removal. The new pass thru machine includes high pressure thru spindle coolant, ensuring longer tool life and faster processing speeds. Also included is fume extraction and Kinetic's patented coolant and chip removal system for automated cleaning.
For more information, contact us
---
CUT / DRILL / MILL / BEVEL / MARK
We manufacture a range of machines to do any or all of the above!
Kinetic Cutting Systems Inc, manufacturers a variety of precision CNC plasma and flame (oxyfuel) cutting machinery and multi process machines that combine machining operations like drilling and tapping with cutting operations.
These machines range from the K5000 with a Cat50 Spindle that combines with the latest plasma cutting systems with cutting widths to 30′(9m) wide, right down to our smaller plasma cutting machines which are suitable for small applications like HVAC plasma machines machines.
Kinetic also manufactures abrasive water jet cutting machines, pipe cutting attachments for up to 3′ diameter pipe.
PrimeCut programming software for all plate cutting operations from small factories with one programmer to multi user systems are also provided by Kinetic.

---
NEW Chip and coolant Extraction
Kinetic is unique in being able to offer high pressure through coolant spindle drilling and machining on a dry table, combining fume extraction when burning with chip extraction and coolant recycling when drilling and machining. The clip below shows the chip extraction and coolant recycling in action.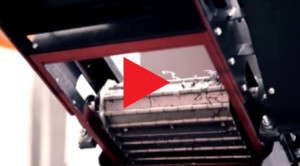 ---
Hypertherm XPR300 Plasma now available
The new XPR300 represents the most significant advance in mechanized plasma cutting technology. This next generation system redefines what plasma can do by expanding its capabilities and opportunities in ways never before possible. With unmatched cut quality on mild steel, stainless steel and aluminum, the new XPR300 increases cut speed, dramatically improves productivity and slashes operating costs by over 50%. Improved beveling is another huge benefit with the XPR300, reducing setup time, improving accuracy and producing consistent quality. Kinetic also supports True Hole technology, which yields superior hole quality. Call us today for more information!